Chicago O'Hare Terminal Map
Chicago O'Hare Airport has four terminals: Terminal 1, Terminal 2, Terminal 3 and Terminal 5. That's right, there is no Terminal 4 at this time. Between 1984 and 1993, however, there was a Terminal 4, which served as the international terminal. After Terminal 5 opened, that location was turned into the airport's ground transportation hub. It is likely that Terminal 4 will make a second appearance as a part of future O'Hare expansion projects.
The O'Hare terminal maps below all can be resized larger. Click on the images to zoom in.
O'Hare Terminal 1 Map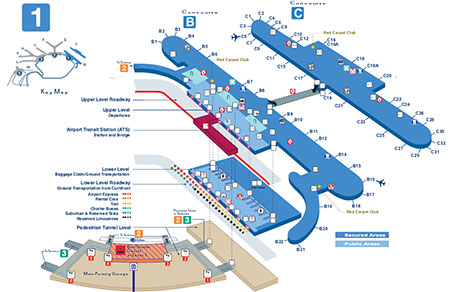 O'Hare Terminal 2 Map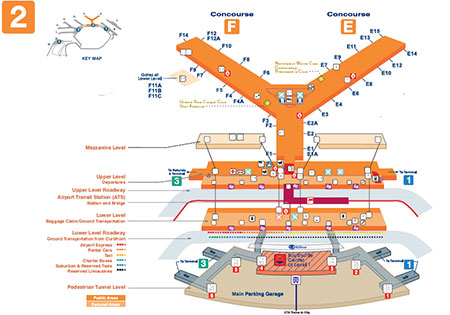 O'Hare Terminal 3 Map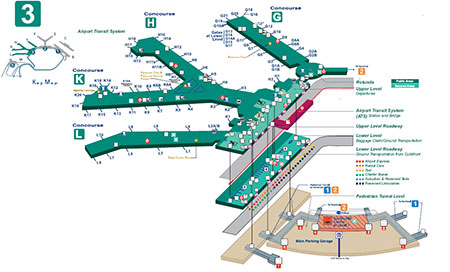 O'Hare Terminal 5 Map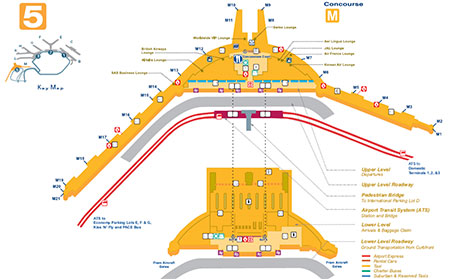 O'Hare Terminals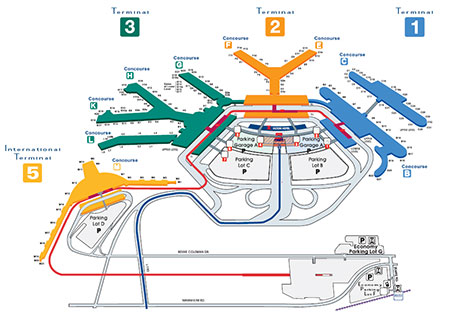 Download O'Hare Terminal Maps
You may download the Chicago O'Hare terminal maps on this page as individual pdf files:
O'Hare Airlines By Terminal

Below are listings of O'Hare air carriers according to the O'Hare Airport terminal in which they are located.

O'Hare Terminal 1 Airlines

All Nippon Airways (ANA) - (departures only)
Lufthansa - (departures only)
Ted United - (domestic; international departures only)
United Express - (all check-in and baggage claim)

O'Hare Terminal 2 Airlines

Air Canada
Continental
Continental Express
JetBlue Airways
Northwest
Northwest Airlink
United Airlines
United Express - (check-in and baggage claim in Terminal 1)
US Airways
US Airways Express

O'Hare Terminal 3 Airlines

Alaska
American Airlines - (domestic; international departures only)
American Eagle
Delta
Delta Connection (Comair)
Iberia - (departures only)
Spirit Airlines

O'Hare Terminal 5 Airlines

Aer Lingus
AeroMexico
Air France
Air India
Air Jamaica
Alitalia
All Nippon Airways (ANA)
American (international arrivals only)
Asiana
Austrian Airlines
bmi
British Airways
Cayman Airways
Iberia (arrivals only)
Japan Airlines (JAL)
KLM Royal Dutch
Korean Air
LOT Polish
Lufthansa (arrivals only)
Mexicana
Royal Jordanian
SAS
Swiss
TACA
Turkish Airlines
United (international arrivals only)
USA 3000
Virgin Atlantic